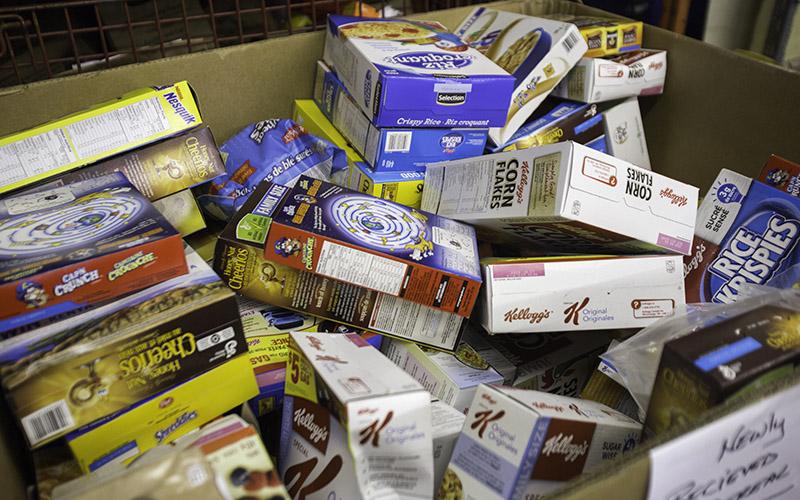 We gratefully accept donations of money and food.
Monetary Donations
We are unable to accept credit or debit card donations – but donations can be made:
Online through Canada Helps 
You may send a cheque or money order to:
Partners in Mission Food Bank
140 Hickson Avenue
Kingston, Ontario  K7K 2N6
Food Donations
Suggested food items to donate (Non perishable items only please; foods high in protein):
Peanut butter, jam
Spaghetti sauce, dry pastas, macaroni
Kraft Dinner
Canned meat, stew, tomatoes
Canned fish
Canned fruits
Canned soups
Rice and dry beans
Canned beans
Baby food – all types
Crackers
Cereal
Tea, Coffee
Sugars -white and brown
Baking items, cake mixes, flour 
Puddings, Jell-O
Ketchup, mustard, relishes
Snacks, raisins, cereal bars
Juices
(Greater demand items)
Perishables may be brought only to our warehouse location at 140 Hickson Avenue, Kingston during office hours Monday-Thursday 8:30am-12 noon and 1pm-4:30pm and Fridays 8:30am-12 noon and 1pm-4pm.
Planned Giving
Planned giving provides an opportunity to donate on a regular basis over a scheduled period of time.  For example – you could donate monthly, or annually over a three to five year commitment.  Planned donating not only provides us with a consistent amount of money that we can project into community services, but it also provides donors with a planning strategy for their charitable giving.
If this approach to giving reflects your kind of financial planning, please contact our Executive Director – Dan Irwin at (613) 544-4534 for more information.