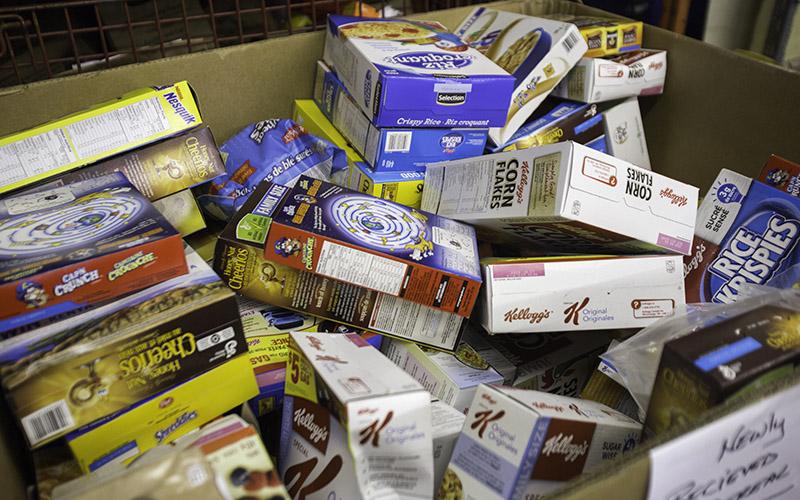 We gratefully accept donations of money and food.
Monetary Donations
Donations can be made:
In person (cash or cheque only)
Online through Canada Helps  (Visa, Mastercard, Amex and Paypal accepted); easy set-up for monthly or one time donations
By mail with cheque or money order 
Partners in Mission Food Bank
140 Hickson Avenue
Kingston, Ontario  K7K 2N6
Food Donations
All donations are welcome! These are suggestions for our most needed items:
Money (your dollars contribute to higher purchasing power)
Canned meat & fish
Peanut butter, jam
Stews, canned tomatoes
Baby food, formula, diapers
Rice & pasta
Cereal
Tea, coffee, sugar
Perishables may be brought only to our warehouse location at 140 Hickson Avenue, Kingston during office hours Monday-Thursday 8:30am-12 noon and 1pm-4:30pm and Fridays 8:30am-12 noon and 1pm-4pm. Volunteer teams with large donations are advised to call our Executive Director Dan Irwin (613) 544-4534 in advance to coordinate best times for collections/deliveries. 
Our most needed items list is featured in our brochure- click here to download.
Planned Giving
Planned giving provides an opportunity to donate on a regular basis over a scheduled period of time.  For example – you could donate monthly, or annually over a three to five year commitment.  Planned donating not only provides us with a consistent amount of money that we can project into community services, but it also provides donors with a planning strategy for their charitable giving.
If this approach to giving reflects your kind of financial planning, please contact our Executive Director – Dan Irwin at (613) 544-4534 for more information.