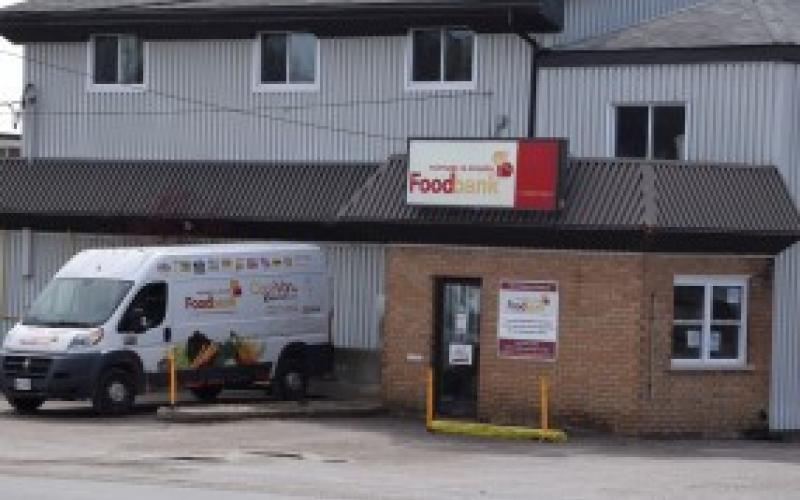 A message from our Executive Director...
The nice weather many of us have been waiting for has arrived. It is lovely to see new growth and the fresh green colours. Some are even starting to harvest their early garden produce. Thank you to those who have been donating their extras to us.
Our Food Blitz was April 15th, and although we missed our goal, we did collect 20,100 lbs of food. Thank you to everyone who donated, the grocery stores involved and our over 120 volunteers that day. With the high levels of food inflation, we were not surprised at our result. Our goal of $35,000 for the month was just missed with $30,838.05. We feel blessed to be a part of such a generous community.
The week of April 16th – 22nd was Volunteer Appreciation week. We have over 95 regular volunteers and we cannot manage without them. They are the reason that we are able to sort food, build and distribute hampers to our neighbours in need. Thank you always seems like it is not enough.
As of the end of May we have distributed 5729 hampers to 5,553 neighbours in need this year (30.1% under 18). This makes our hamper distribution up 5.5% over last year. We are managing this increase due to the kindness of our community. We continue to watch the larger centres in Canada for clues as to what we may see next and attempt to prepare for those.
With the amount of growth that we have experienced, we are feeling very confined in our space. The Board of Directors and I are reviewing what options are available to us. We need to improve our client experience, ensuring they are not exposed to the weather, as well as more space for our volunteers to work, and more food storage.
Thank you for your support.
Dan Irwin
What have we been up to recently...
March 2 – Fort Henry Embers: The Embers (7 & 8 year old girls) brought in their food donations, toured our facility to learn about our helping our neighbours in need and then sorted their donations.  
March 13-17 - March Break: The Leon's Centre hosted free skating and participants donated non-perishable food.
March 31 - April 13 - Loblaws Spring Food Drive: As always, Kingstonians showed us just how caring they are by donating 1848 lbs of food! The dollar amount is still to be determined and will be soon announced.
March 28th - June 30 - Give 30 Campaign: In its 10th year, this campaign that begins during Ramadan is about giving, building community, and understanding the challenges of hunger that others face. It's about uniting in common humanity. Hunger and poverty know no race, religion, ethnicity, creed, gender, or age, and that's why it's so meaningful. To date, we have received over $21,800.
April 5 – City of Kingston CAO Visit: Lanie Hurdle came in to visit our facility and gain a better understanding of our operations.
April 11 – Landmark Cinemas: Customers and staff donated 198 lbs of food through their food drive.
April 13 - RBC Commercial Banking: 14 RBC Commercial Bankers were sorting food and helping to organize our warehouse before our Food Blitz.
April 15 - 2023 Food Blitz: Our Food Blitz was at 11 local grocery stores. Volunteer teams from a variety of organizations collected both food and monetary donations, on our behalf, from community members. We are pleased to report that we collected 20,100 lbs of food, and during the month $30,838.05. Thank you to everyone involved.
April 15-16 – Comicon Kingston: Comicon was at 560 Legion on Montreal Street, attendees donated 155 lbs of food to us.
April 17 - 22 - National Volunteer Appreciation Week:  We celebrated all our wonderful volunteers for their continued work helping us combat food insecurity in Kingston. Volunteers were treated daily to some tasty donuts from Tim Hortons, given a new re-useable water bottle.
April 19 – RBC Financial Planning & Commercial Banking: 7 RBC staff from Financial Planning and Commercial Banking came in to donate money towards our new freezer in our client pickup area and sort food from the Food Blitz.
May 1 – Summer Student: Brittany, a St. Lawrence College student from the Social Services Worker program has joined us for the summer, we received a Canada Summer Jobs Grant for half of her time with us.
May 15 – PIMFB Driver: We have a new driver, Mark. He is happy to be here helping our community.
May 19 – Grant's No Frills: Grant of Grant's No Frills on Division Street has retired. Grant was a huge supporter of ours, providing discounts on our bulk orders and being there when we desperately needed something. Thanks Grant, we wish you all the best in retirement.
May 25: HDR Architecture: $2000 donation to support our services, thank you!.
May 26: KCCU Community BBQ: KCCU on Gardiners Road held their community BBQ in support of us.
June 20 – 1000 Island Blues Cruise: Choose The Blues Productions is hosting a fundraising event featuring Kenny "Blues Boss" Wayne & Band aboard the Island Queen. For more information: www.choosetheblues.ca
Food Banks: The paramedics of social support
It has been said that food banks are like the paramedics of social support. Think about that. Just like paramedics, food banks respond to emergencies. Food banks were a temporary measure, created in the 1980's to respond to poverty and hunger in a time of economic crisis.
It is an interesting correlation. The word paramedic comes from two words – 'para' meaning along-side and 'medic' meaning doctor.
Food banks were created as a stop-gap measure. They were there to help people keep their heads above water as they navigated unforeseen circumstances impacting their lives. This was meant to be done alongside good public policy and robust social support programs; they were never intended to cure ongoing food insecurity needs.
It is no surprise then, that as food banks are experiencing the sixth consecutive year of growth in visits, the expectations and increased need in our province is beginning to surpass the capacity of the food bank network.
Just as we see mounting pressures in healthcare changing the role of paramedics from providing life-saving emergency interventions to managing long-term conditions, acute presentations of mental health concerns, and a range of urgent care needs, unfortunately food banks are being relied on more and more to fill gaps created by government budget cuts and employer cost cutting.
Why food banks were created?
Feed Ontario was founded 30 years ago by twelve food banks wanting to build a united front against hunger. Feed Ontario set out to support local food banks in providing essential services to their communities and to advocate for strong policies that would eliminate food insecurity and poverty in Ontario. Food banks were a temporary measure.
Beginning with the recession in the early 1990's and through the global financial crisis in 2008, natural disasters, the COVID-19 pandemic, and now as our province experiences unprecedent inflation, Ontarians have faced several emergencies over the past 30 years.
Feed Ontario's network of 1,200 hunger-relief organizations have been invaluable in their willingness to navigate impossible odds, however they were only ever intended to provide temporary emergency assistance.
How food banks can, and do, serve their communities?
The Ontario food bank network provides nutritious food support and programing that helps alleviate immediate hunger needs. In addition, many food banks offer income support programs, like rent subsidies. They also advocate on behalf of those they serve at the municipal, provincial, and federal level for evidence-based solutions to poverty.
Food banks are a beacon in their communities through unprecedented challenges, ever exhibiting innovation and agility. They quickly adapt services, ensuring they are there to help their communities.
Over 90 per cent of food banks provide services beyond emergency food support. Services can include holiday hampers, home delivery, school supplies, and income tax preparation.
As the financial health of Ontarians declines, food bank use is escalating, and food banks are becoming increasingly relied on to fill gaps in the social safety net and subsidize government policy changes, budget cuts, and inadequate social support programs.
As food banks experienced a 42 per cent increase in visits over the last three years, there is a concern that the growing need and reliance on food banks in the province will outpace the capacity of the provincial food bank network.
What food banks can't (and shouldn't have to) do
Food banks can't lift people out of poverty. The demands being placed on food banks now reach far beyond emergency response. They have effectively become a second tier of the social safety net. Food banks are being relied on to catch all the people who have fallen through the cracks when other systems have failed.
Food banks excel at helping people during times of crisis and ensuring that families who need support are helped. While food banks will continue to distribute food and provide ongoing support to fill the gaps, they will never be the solution to food insecurity. Intentional action needs to be taken to move the needle poverty. Only this will ensure all Ontarians have access to all their basic needs.
Where do we go from here?
It continues to be harder to escape poverty than it was 30 years ago. This comes as Ontario's labour market is weakening and social assistance programs are not keeping pace with rising costs. All the while, housing and other necessities are becoming more and more unaffordable.
While Feed Ontario and the provincial food bank network will continue to distribute food and provide ongoing support to the full extent of its ability, food banks cannot reduce poverty. The only solution lies in good public policies that ensure Ontarians have access to sufficient income.
The Government of Ontario needs to take immediate action to:
Ensure all workers have access to protections under the Employment Standards Act, Employment Insurance, and the Canada Pension Plan.
Close the gap on poverty by increasing social assistance rates to a basic standard of living.
Make housing affordable so people don't have to choose between paying rent or buying food.
Put people with lived experience at the centre of policy and program design.
Like paramedics to the medical system, food banks were a temporary measure. Unfortunately, they have become a second tier of the social safety net. Food banks are relied on to catch people who have fallen through the cracks when other systems have failed.
The proper government action can ensure Ontarian's have access to the income they need to meet their basic needs. Then food banks can focus on providing the emergency support they were intended for.
Our Heroes of Hunger - PIMFB Volunteers.
11,953 volunteer hours donated in 2022
A huge Thank You to our 95+ Volunteers !!