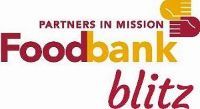 UPDATE:We are thrilled to announce that our current total for this year's "Blitz" collection was $4,507 and just over 38,000 lbs. of food. We will continue to count donations through to the end of the month as we normally do, so these numbers will increase. We would like to thank all of our incredible volunteers for hosting the collection sites and the grocery stores that allowed us to set up on Saturday. Thanks as well to all the local media who helped to get our message out to the community and to all our generous donors who made this a successful campaign.
This Saturday May the 4th from 10 am to 5 pm, we will be holding our 34th annual "Food Blitz" across the City of Kingston. Teams of volunteers will be handing out collection bags to shoppers and asking if they would like to make a donation to the food bank. All non-perishable food items will be gratefully accepted with a focus on canned Fish, Meat, Peanut butter, Stew and all forms of Baby Foods.
This is an essential food drive for us as it stocks up our shelves for the upcoming summer months when donations typically slow down. Need for the food bank is in great demand as 2018 was yet another record year with a 3.5 % increase in demand, following similar increases in 2016 and 2017.
Donations can be made at the following 8 grocery store locations:
Grant's No Frills -  Division Street
Gord and Kim's No Frills – Coverdale Drive
Loblaws - Princess Street
Loblaws – Midland Avenue
Freshco – Princess Street
James Value-Mart – Gore Road
Metro – Gardiners Road
Food Basics – Hwy 15
I would like to thank all our incredible volunteers from; Kingston Rotary, RMC, Kingston Real Estate, HDH and RBC who will be working with us at these stores.
This will be my last "Blitz" as I will be retiring from the Food Bank after 26 years on May 17th, and I hope that the good people of Kingston will generously support this effort as you have in the past.
Thank you,
Sandy Singers
Executive Director