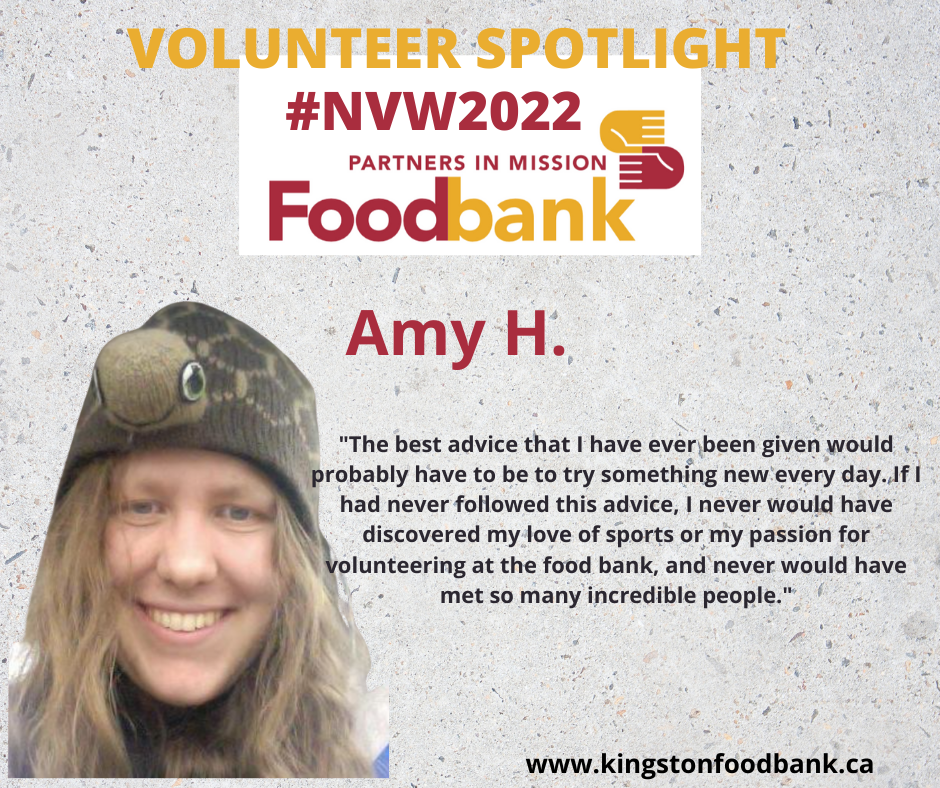 Tell us a little bit about yourself:
My name is Amy and I have lived in the Greater Kingston Area for my entire life so far. I am currently a student at Queen's University. In my free time, I like to help with the local ringette association, play and coach field hockey, spend time with our family's two cats, and watch Jeopardy whenever I can! I also like to spend time with my family and friends whenever possible, which is a big part of the reason why I enjoy my time at the food bank so much: because the friendships that I have made there are invaluable.
Why did you decide to volunteer with the Partners in Mission Food Bank?
The summer after I finished high school, my mum suggested that I start volunteering at the local food bank, as she had heard that there was a need for volunteers. I was keen to volunteer and to give something back to the community that has given so much to me over the years. I am also passionate about food security and food sustainability initiatives and saw volunteering within such an organization to help push for a better understanding of these issues.  I took to it right away and have been coming back ever since for the past 13 years.
If you could only choose one song to play every time you walked into a room for the rest of your life, what would it be?
I am a music lover, so picking one song to listen to for the rest of my life is quite challenging. Having said that, I would probably have to pick 'Seasons of Love' from the musical RENT. I am a big musical theatre fan and musicals themselves have played in big role in my life; that includes the fact that I was lucky enough to be in a few musicals throughout school. This song was a big part of the soundtrack of my high school years and has helped me through some of the toughest times in my life.
What is the best advice you have ever been given?
The best advice that I have ever been given would probably have to be to try something new every day. If I had never followed this advice, I never would have discovered my love of sports or my passion for volunteering at the food bank, and never would have met so many incredible people. To me, being true to myself and being comfortable with who I am – advice that I also received - have also helped me to try these new things.
As part of the 2022 National Volunteer Week celebration, The Partners in Mission Food Bank (PIMFB) is shining a spotlight on a few volunteers who help us fight food insecurity within Kingston and the surrounding community.
PIMFB is incredibly fortunate to have a team of compassionate, caring volunteers who bring a wide range of skills to their respective roles.
We couldn't do what we do without them, so please help us celebrate these amazing individuals who give so freely of their time to help others.