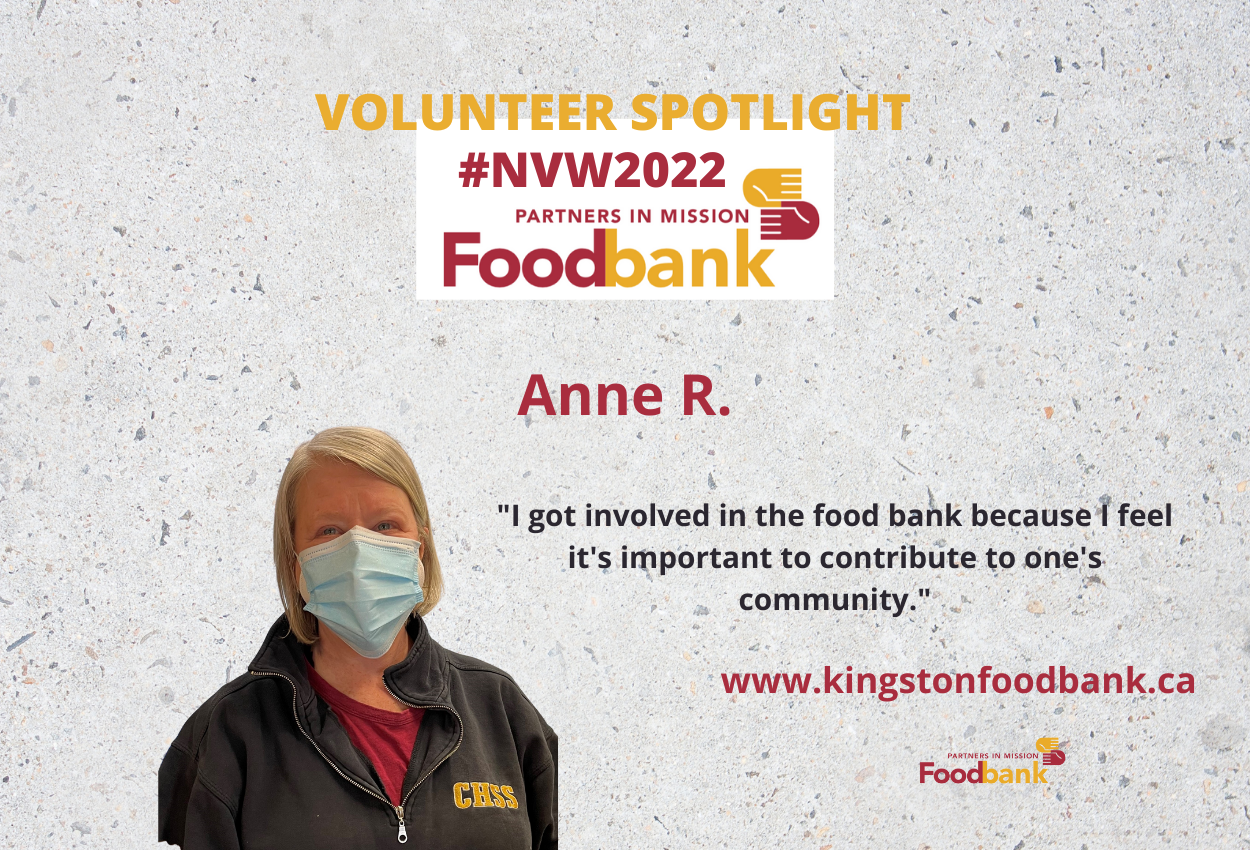 Tell us a little bit about yourself:
I grew up in Kingston and received all my education here. I married my first husband in 1987, and my first child, Johanna, was born in 1991. We moved to Madoc, where I was teaching, when she was only about two months old. Unfortunately, my first husband was diagnosed with cancer and died in 1993. I remarried in 1994, and my husband Bruce and I had two more children, Bobby in 1996, and Moira in 2001. I retired from teaching in February 2020 and made the move back to Kingston in October 2021.
I enjoy hiking, reading, cooking, music, theatre, and film. I look forward to travelling when I feel it's safe to do so.
Why did you decide to volunteer with the Partners in Mission Food Bank?
I got involved in the food bank because I feel it's important to contribute to one's community. I'm old enough to remember the earliest days of food banks in Kingston. My parents used to deliver contributions from their church to Partners in Mission, so early on, I had a sense of the good work being done here. My husband helped with the food bank in Madoc, and then got involved here when we moved to Kingston. I was looking for some volunteer opportunities and was welcomed by Partners in Mission a few weeks later.
You purchase a lottery ticket that ends up winning $10 million. What would you do?
If I won $10 million in the lottery, I would first make sure that my kids are secure. Bruce and I don't need much, but when we feel comfortable being on a plane again, we'd love to travel. The Scottish Highlands and islands have been on our bucket list for a long time. Making contributions to local charities which address homelessness, food insecurity, and addiction and mental health would also be very important to me.
What is the best advice you have ever been given?
When I was a mopey kid feeling sorry for myself, my mother used to tell me that, no matter how bad I thought my situation was, there was always someone else who was worse off. It may seem she was just telling me to get over myself, but I think she was trying to teach me about empathy.
As part of the 2022 National Volunteer Week celebration, The Partners in Mission Food Bank (PIMFB) is shining a spotlight on a few volunteers who help us fight food insecurity within Kingston and the surrounding community.
PIMFB is incredibly fortunate to have a team of compassionate, caring volunteers who bring a wide range of skills to their respective roles.
We couldn't do what we do without them, so please help us celebrate these amazing individuals who give so freely of their time to help others.