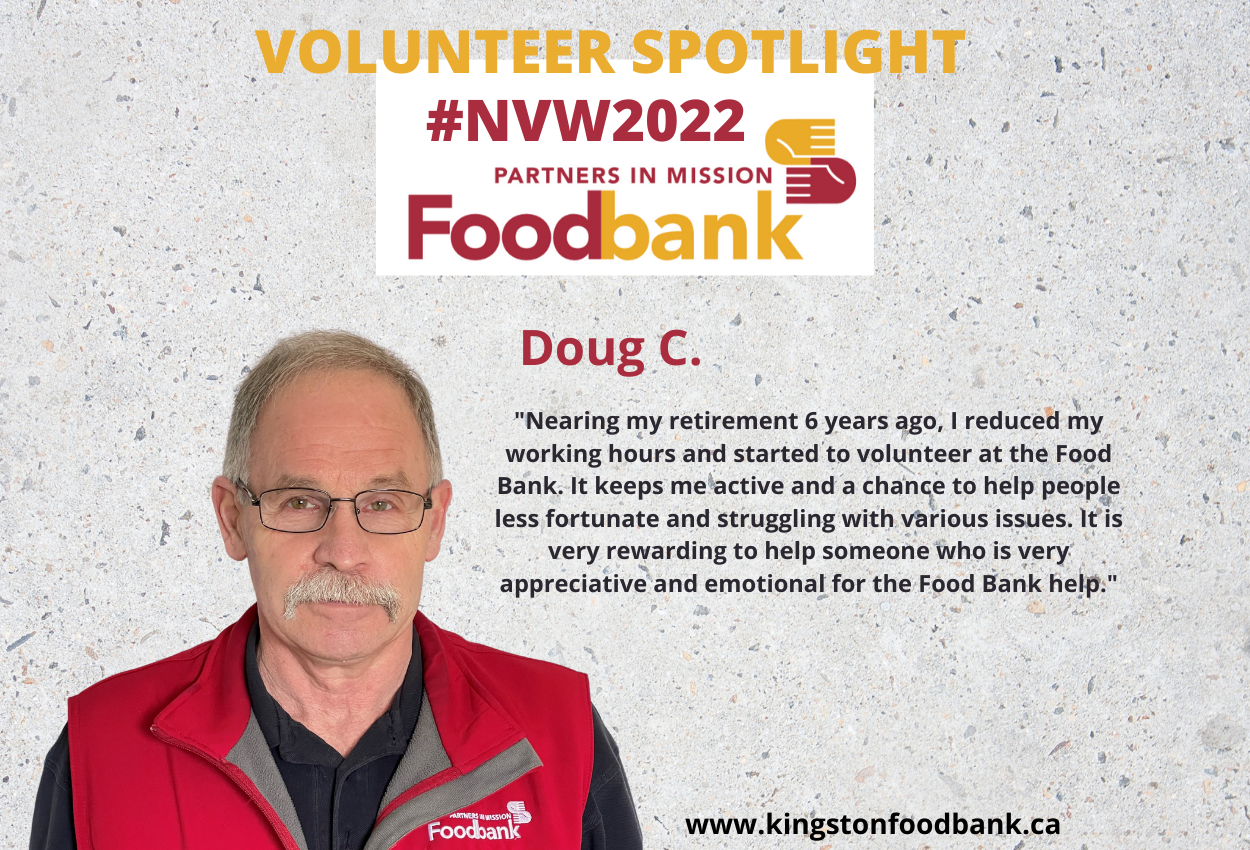 Tell us a little bit about yourself:
I grew up on our family dairy farm in Russell, Ontario (east of Ottawa). I operated the farm with my parents until selling in 1988. I then worked in a small wood working shop for 5 yrs., and then for 3 different communication cabling companies over a period of 25 yrs. I am married, with 2 adult married girls and 4 grandchildren. I have sung in a few Male Choirs and hope to rejoin the Kingston Senior Choristers when the Covid pandemic is over. Presently, a lot of my time is spent at the Food Bank. I enjoy working on Jigsaw puzzles and being a grandpa.
Why did you decide to volunteer with the Partners in Mission Food Bank?
Nearing my retirement 6 years ago, I reduced my working hours and started to volunteer at the Food Bank. It keeps me active and a chance to help people less fortunate and struggling with various issues. It is very rewarding to help someone who is very appreciative and emotional for the Food Bank help.
You are given a time machine. What year would you travel to, and why?
I am not much for a "time machine", preferring to deal with the present. However, I suppose it might be interesting to look 25+ years into the future to see how my children and grandchildren are doing.
What is the best advice you have ever been given?
I can't say I ever received any spoken "best advice". Probably I learned the most from watching, listening, and working with my parents. They taught the value of hard work, being polite and sticking to your values.
As part of the 2022 National Volunteer Week celebration, The Partners in Mission Food Bank (PIMFB) is shining a spotlight on a few volunteers who help us fight food insecurity within Kingston and the surrounding community.
PIMFB is incredibly fortunate to have a team of compassionate, caring volunteers who bring a wide range of skills to their respective roles.
We couldn't do what we do without them, so please help us celebrate these amazing individuals who give so freely of their time to help others.